Today's article on Why Does Your Email Campaign Has a Low Success Rate? How Can You Improve? is brought to you by Ben Levin – Content Expert at Mofluid.
Let's welcome Ben in our blog, and learn from his invaluable experience!
---
Email marketing remains one of the most effective digital marketing techniques.
Customers who make purchases via email spend, on average, 138 percent more than those that are not being sent email offers. Email is also the third most important source of information for B2B audiences.
If you find that your email campaigns are not achieving the success rate you imagined they would, it's time to analyze your techniques and see where you went wrong.
Today, we'll go through some possible reasons why your email campaigns have a low success rate and what you can do to improve them.
Image Source – Oberlo
1. Not Having a Clear Strategy
Too many people start building an email list without having a clear-cut strategy in place beforehand. It is crucial that you have a clear course of action you can follow.
You need to have a content strategy so that you know what kind of emails you should send out.
You should have a scheduling strategy so that you know when to send your emails, as well as a promotional strategy for what kind of products you will be promoting and how you will go about doing it.
2. Not Being Flexible
While it is important to have a strategy that you can follow, it is just as important that you be flexible with your strategy.
You should continually test your campaigns and track your performance.
If you see that you are not achieving an adequate success rate, you should be willing to be flexible and tweak your strategy.
3. Targeting the Wrong Audience
If your advertising campaigns, funnel and emails seem perfect but you still can't seem to get any results, take a second look at the people who you are targeting.
If you are targeting people who aren't that interested in your products, of course you won't have a good conversion rate.
Analyze your sales data to see which target demographic is most likely to bring in sales. Another thing you can do is create a customer profile.
A customer profile is a profile of your ideal customer, the one who you want to be targeting with the perfect demographics: Age, location, interests, income, familial status, and so on.
Image Source – Lepide
4. Collecting Leads the Wrong Way
Besides making sure that you are targeting the right leads, you need to make sure that you are collecting leads the right way.
You should have a clear opt-in process so that customers know what they are getting into. This is especially important now that GDPR laws have gone into effect.
You need to make sure that your customers know what they are signing up to. Don't try to trick them into signing up to your email list.
Of course, never purchase email subscribers from any company or agency, regardless of how legitimate they claim to be.
5. Not Having the Right Offer or Ads
Most businesses, in an effort to get leads to sign up to their email list, will present them with a free offer.
This can be a discount or promotion code, a free ebook or guide, a free trial, or anything else that your target audience may be interested in.
However, realize that what you include as your offer, also called a lead magnet, can affect the success of your follow up campaigns.
Take the common practice of offering a free ebook or a free month's membership, for example.
If you don't do this correctly, you will end up targeting people who are only interested in freebies. You will have a hard time convincing these people to actually hand over their money to you.
Part of this has to do with how you market and advertise your offer. If your ads and your landing page stress the "free" aspect too strongly, you may end up getting leads who are freebie-seekers.
If you are offering a free trial, one way to make sure you are getting serious signups is to require them to enter their payment information without it being charged for the first month.
Of course, in either of these scenarios, your signup rates are likely to go down. However, you may find that while you are collecting fewer leads, the leads that you are collecting will have higher conversion rates than before.
At the end of the day, you need to test different strategies and tactics until you find the one that brings you the most profit.
If you are using your blog to drive traffic and collect email leads, make sure that the content includes CTAs to sign up to your list. You can also use an SEO tool to help you get more organic traffic.
Source: Easy-smtp
6. Not Welcoming Your Subscribers
Sending a welcome email to your subscribers is a great way to make a good first impression and shape their perception of you.
It will help build a relationship and gives you an opportunity to show them that you care.
It's also a great way to set their expectations in terms of how often you will be sending them emails and what kind of content those emails will contain.
This way, they won't be surprised or annoyed if you send them offers that they weren't expecting.
7. Not Making It Easy to Unsubscribe
You might think that making it a bit harder to unsubscribe will help you keep more subscribers.
However, think about it: You will have more subscribers, but will you have the RIGHT kind of subscribers?

You need to make sure that all of your subscribers are truly interested in your content. Making it EASIER to unsubscribe will ensure that you keep your email list conversion rates high.
Not only that but making it easy to unsubscribe will help reduce your spam complaint rates.
8. Not Promoting the Right Products
It's important to make sure that you are promoting the right products. Whether you are an affiliate, are selling your own digital products or are selling your own physical products, you have to make sure that:
The products are of interest to your subscribers

You presell the products in your email

The products have good sales pages and high conversion rates
To make sure that the products are of interest to your subscribers, you need to make sure that all aspects of your funnel are aligned with each other.
Your ads, landing page, lead magnet, welcome email, and follow up emails should all lead to each other and work together.
9. Not Having Clear CTAs
If you don't have clear call-to-actions, you will have a hard time getting your customers to follow through on the actions you want them to.
Your CTAs should be clear and to the point. You can use buttons and other graphics to make your CTAs stand out, but even if you don't, write them in clear text and include a link straight to the landing or sales page that you are promoting.
You may want to test including call-to-actions above the fold or towards the beginning of your emails. This can be especially helpful on long email newsletters.
Many users will open up the email, scroll a little bit, and then delete it or go back to their inbox. By including your call-to-action above the fold, it will get more exposure and a higher click-through rate.
You can also include the same CTA a second time at the bottom of your email for those that stuck around to read your entire email.
10. Sending Too Many or Too Few Emails
You may think that if you send emails every day to your subscribers, your offers are going to get more exposure. However, that may or may not be true.
As you send more emails, you may notice your open rates going down significantly. This can happen to your conversion rates as well. At the same time, you may notice spam complain rates going up.
Sending too few emails is not a good option, either. You want to keep your audience engaged and keep the relationship between you going.
If you go too long without sending emails, many subscribers will forget who you are. Not only will you have lost the recognition that is necessary for conversions but you may also find your subscribe and spam complaint rates going up.
Besides, you are simply leaving money on the table if you have an email list and don't utilize it as much as you can.
It's crucial to find the right balance. This will depend on what kind of emails you are sending out and what industry you are in.
For some people, it will be twice a month. For others, it will be twice a week. And for some, it can even be twice a day. Make use of a good auto-responder
You need to test out different email frequency rates before you can find out which one is best. Segmenting your audience into different lists and choosing a different frequency rate for each one is one way to test that.
Whatever you do, make sure you are consistent.
11. Not Sending at the Right Time
It's not just about how often you send your emails but also about when you send them.
Look at this infographic from CoSchedule: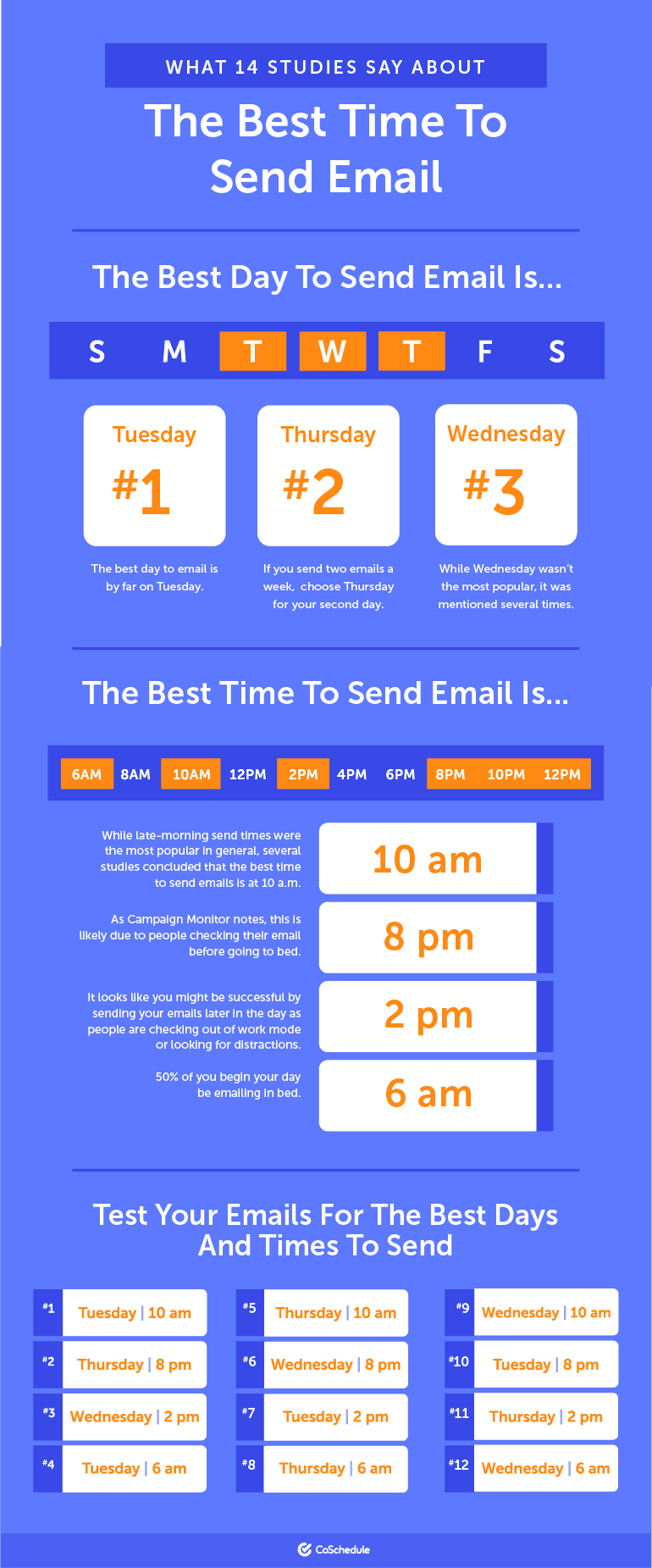 According to 14 different studies, the best time of the week to send your emails is on Tuesday, with the second best time being Thursday.
As for the best times of the day, the four best times are as follows (in order of highest conversions):
10 AM: People checking their emails after starting work and getting their coffee or while having early lunch

8 PM: People checking their emails before going to bed

2 PM: People checking their emails during an afternoon/post-lunch laze at work

6 AM: People checking their emails as they get up for work
Of course, every industry will be different. If you are targeting stay at home moms, your send times should be different than if you are targeting CEOs.
That's why it's important to test out different sending times.
Image Source – SendLane
12. Not Using Automation
Using automation will increase your conversion rates tremendously. First of all, set up a follow up sequence to be sent to your new subscribers.
This can be three emails, or it can be 20 emails. It can run over five days, or it can run over five weeks.
It all depends on your industry.
However, that's not enough. Start using automation tools, which are offered by most email service providers, to segment your audience.
You can have different emails sent to subscribers based on their actions.
For example, if a subscriber doesn't open an email, you can have that same email sent to them a second time. If they do open the email, you can have a different email sent to them.
You can have different list segments that subscribers can be added to based on their actions, such as how many emails they opened, whether they clicked on a specific link in a specific email, or whether they made a purchase or not.
This will allow you to optimize your list for the highest conversion rates.
13. Not Optimizing Your Emails for Mobile Devices
Your mobile readers will account for a large percentage of your audience. If you are not optimizing your emails for mobile devices, you are leaving money on the table.
Make sure you are using email templates that work well on all devices and are fully responsive.
Test out the templates yourself on different sized mobile devices and on different devices and apps to see if you have to scroll back and forth to read the text.
14. Not Using the Right Design
The design or template you use will also have an impact on your conversion rates. On the one hand, you don't want to go overboard and confuse your audience with unnecessary distractions.
On the other hand, you want a design or template that is professional, allows you to add images in appropriate places, and is easy on the eyes.
15. Not Providing Enough Value or Not Promoting Enough
This goes hand in hand with what we mentioned about the need to strike the perfect balance between not sending too many emails and not sending too few.
On the one hand, you have to make sure that you are not being overly promotional and that you are providing value to your subscribers.
On the other hand, you can't be too afraid to actually promote your products; after all, that's the main purpose for which you are building your email list in the first place.
Wrapping It Up
There is always room for improvement when it comes to email marketing.
Constantly test out different subject lines, email content, email templates, offers, send times, your sending frequency, and everything in between until you find the highest-converting formula.
---
We feel honoured to have Ben's insights featured in our blog, and we are incredibly thankful for the knowledge he has shared with us.